THESE ARE OUR ACTUAL FREE HOSTING PLACEMENTS IN POLAND
>FOR EUROPEAN VOLUNTARY SERVICE AND
>EUROPEAN SOLIDARITY CORPS
PRIMARY SCHOOL IN GRÓDEK:
Description of the project: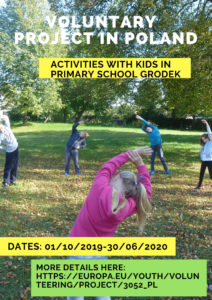 Within this project we would like to create a creative space for learning for kids and youth in a primary school center in a rural region to help them to become responsible citizens, respectful of the environment and respected by all. We also want to promote the co-operation between formal and non-formal education to make a bigger impact in personal development.
TASKS OF THE VOLUNTEERS:
Support in the school club (care centre after formal lessons) by preparation and organizing of sport activities and workshops for kids
Assistance in preparation of school feasts and local ceremonies.
Organization of language workshops, non-formal meetings and games about their countries, cultures and traditions.
Creation of own activities (in field of sport, music, theatre, multimedia, literature, languages …)
Animation of different non-formal activities inside and outside of the school (in co-operation with other local institutions)
Volunteer's profile:
We are looking for: 2 volunteers (one from EU-countries, one from Belarus)
We wish to welcome motivated young people, interested in working with children and young people.
Welcome are active volunteers with interest in sport and/ or creative hobbies (like plastic arts, handicraft, music instruments etc),
Volunteers should be autonomous as they will live alone in a flat in a rural area.
Application deadline for candidates: 15/07/2019
 To apply: please send us filled in application form
to the following email-address: anawoj.milka@gmail.com
EVS Application Form ANAWOJ[DOC, 280 kB, English version]
—————————————————————————————————————————
Here you can find the information about all our hosting places for EVS volunteers in Poland.
Please read the information , enjoy the movies and if you are interested in one or more placements for your EVS, please contact us by email sneding the filled in application form:
EVS Application Form ANAWOJ[DOC, 280 kB, English version]
---
EVS Hosting place: "ANAWOJ" – Association of International and Intercultural Exchange – in Michałowo/Poland
EVS Hosting place:  Primary School in Gródek
EVS Hosting place: Esperanto assocation in Bialystok (Białostocka Towarzystwo Esperantystów)
EVS Hosting place: Special School complex nr. 11 in Białystok
EVS Hosting place: Special School complex nr. 16 in Białystok
EVS Hosting place: Special Educational School Centre Waldemar Kikolski in Bialystok / Specjalny Ośrodek szkolno-Wychowawczy w Białymstoku (SOSW)
EVS Hosting place: School Centre in Suchowola
EVS Hosting place: School Centre in Dąbrowa Białostocka