WOLONTARIAT W PORTUGALII: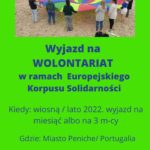 Organizacja goszcząca: Associação Juvenil de Peniche
Praca z dziećmi w wieku 6-12 lat. organizacja zajęć dla dzieci w świetlicy podwórkowej, pomóc  podczas półkolonii letnich, organizacja warsztatów i czasu wolnego dla dzieci.
Wymagania:
trzeba się mieścic w granicy wiekowej: 18-30 lat
trzeba byc motywowani do pracy z dziećmi
Oferujemy:
a) pokrycie koszty podróży do Portugalii i z powrotem w wysokości 360EUR
b) wolontariuszy otrzymują kieszonkowe i środki na wyżywienie
c) podstawowy kurs języka portugalskiego
d) przygotowanie do wyjazdu przez Stowarzyszenie ANAWOJ oraz wsparcie na miejscu przez organizacje goszczącą
Zobacz wiećej: AJP_Infopack_2022ESC – AJP-Infopack_2022
Rekrutacja:
Należy wysłać nam mailem swój CV i List motywacyjny w języku angielskim oraz jakiś fajne zdjęcia o od siebie
najpóżniej do dnia 10.04.2022 na adres: anawoj@interia.pl
A tu jeszcze można zobaczyć relacje wolontariusz, które wysłaliśmy w ostatnich latach do tego samego miejsca:
https://anawoj.org/wp-content/uploads/2017/08/EVS_Peniche_Ola.pdf
https://anawoj.org/wp-content/uploads/2017/05/EVS-opis_JUlia.pdf
—————————————————————————————————–
ESC: LAST MINUTE CALL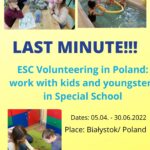 For ESC individual volunteering
Who? 1 volunteer from EU country (18-30 years)
Where: Special School in Bialystok/ Poland
When: 05.04.-30.06.2022
Appy now!!
———————————————————
"Our home is part of the world" (1.-28.07.2021)
WE INVITE YOU FOR GROUP VOLUNEERING IN POLAND – JULY 2021!!! JOIN US.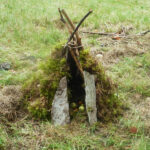 Desription of the project:
The main theme of the project "Our home is part of the world" is ecology and caring for the environment.
Volunteers will become local animators and ecology educators. The main target group of planned activities are children and youth from marginalized communities in our region. We plan to move with this volunteer team to several smaller villages and organize various actions such as:
– organizing free time activities for children in the form of creative workshops
– organizing workshops for children in the field of ecology and caring for their environment
– organizing cleaning events of the forest and public area
– animation of the local community to take care of their environment.
The main objectives are: increasing ecological awareness among project participants and local people, increasing awareness of their own responsibility for the environment and surrounding, increasing awareness of diversity, tolerance, respect and equalizing opportunities for young people from the countryside.
Living conditions:
In the first days all volunteers will live in tents surrounded only by nature, without electricity and running water. Then we will change accommodation, but also the conditions will be basic and simple including sleeping on mattresses in a shared room. Travel costs will be reimbursed from project budget. Food or groceries to prepare meals will be provided. The volunteers during all project limit the production of garbage, the usage of electricity and the usage of water. Each participant neet to bring his own sleeping bag.
Trainings:
During project all volunteers will take part in introductory training, basic polish language and introduction into polish culture. However the most important will be workshops about zero and less waste and ecological lifestyle, since volunteers should become an ecology educators. Because of this, we also plan to spend all time during project living in the spirit of less waste. We will also offer them some basic workshop about leading activities for kids and teenagers, so during second part of the project, everyone will know how to do it.
Participants:
We are looking for positive persons, who is very interested in ecology and zero/less waste. Who will not have any problems with sleeping outdoor in a tent, without electricity, internet, running water, only surrounded by nature. Someone who is open-minded and ready for some survival activities. Person who wants to try on yourself self-sufficient approach to cooking, washing, cleaning and life in general. Someone who would like to work with kids and teenagers from marginalized communities.
total numbers of participants:
= 15 young Europeans between 18 and 30 years
(12 from european union countries + 3 from Poland)
Apply now! Via European Solidarity Corps Platform …..
https://europa.eu/youth/solidarity/placement/26298_en